Vietnam is located in tropical zone and famous with so many kinds of fruits. There are ten kinds of fruits not only delicious and popular, but also meet the criteria for export which both foreigners and Vietnamese should try.
Durian fruit- King of fruits (Sau Rieng)
If you are in Vietnam especially in durian season ( from May to August of year ) you should try to enjoy it for yourself. It's easy to find durian in any markets or supermarkets of Vietnam. In many countries in Asia, Durian is compared as King of Fruits because of its humongous size, interesting odor, an outer husk covered in spikes that are able to draw blood and its highly value. Durian highly contains sugar, vitamin C, tryptophan, potassium, carbohydrates, fats as well as proteins. It's frequently recommended an effective source for taking raw fat. Especially if you have any chances to visit Vinh Long province, remembering to try Durian Ri6 which is praised to be the best durian variety in Vietnam.
2. Mangosteen (Mang Cut)
If the mighty durian is king, the mangosteen iscompared as the queen of fruit thanks to its semi-firm exterior shell which could not be much to look at, but what impresses people on the first time trying is that the the soft and delicate flesh of the white interior.
Mangosteen is a tropical tree so it just grows in warm weather condition so it just disposes from Hue to the south of Vietnam.It can't be denied that Lai Thieu Mangosteen is the best mangosteen in Vietnam with thick peel, white and sweet-and-sour sedments made people remember forever. In the feudal time, Mangosteen was compared as a noble fruit and used in rich families as well as offered for Royal Family
3. Dragon fruit ( Thanh Long)
Was known as Pitaya fruit, Pitahaya fruit or commonly as the Dradon fruit is among the most nutrious and wonderful exotic fruits.Native to Central and South America and cultivated in many places as diverse as South East Asia and Australia, this fruit from the cactus species come in three kinds – red skin with red flesh, red skin with white flesh and yellow skin with white flesh. Especially, Vietnam Dragon fruit with its sweet and crunchy taste.
It is easy to find dragon fruit in any Vietnamese markets. To select a nice fruit is quite easily, simply look for full-bodied, full colored fruits. If the fruit has a lot of blotches, it may be over-ripe (a few is normal). Another sign of an over-ripe dragon fruit is its stem will be very dry and brittle brown, or brown on the tips of the "leaves". We can hold the dragon fruit in our palm and try to press the skin by thumb or fingers – it should give a little (like a ripe kiwi), but shouldn't be too soft or mushy. If it's quite firm, it may need to ripen for a few days.
4. Pomelo ( Buoi)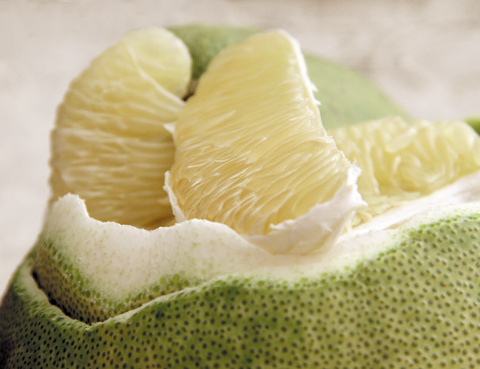 Pomelo is a tropical and subtropical species and prefers to grow in hot and humid climate. There are several kinds of pomelo regionally famous for their taste like Nam Roi, Phuc Trach pomelo. Green peel pomelo is a specialty of the southern province of Ben Tre
This fruit is eaten fresh or is use to make juice. The pulp can be use to make salads and the peel is used to make candies; citrus peel is often used for flavoring.Pomelo is really a golden mine of vitamins.
5. Longan (Nhan)
Longan, also known as "dragons eye" (because of a white eye shaped mark on the pit that appears as a pupil in the large eye) are softerand smaller than lychee fruits. Longan fruit is brown in colour and isconsidered as little brothers of lychee fruits. Scientific term of longan is Dimocarpus longan, originated in China and later spread across the globe and is now widely cultivated in Thailand, India and in several other countries of Southeast Asia including Vietnam. Longan is best grown in the summer season and can be consumed both raw or as dried fruits
6. Lychee
Lychee is a nice fruit with a sweet smell and taste, available in the summer and also a small fruit full of healthy nutrients. Lychee  has a rough skin outside and contains juicy flesh inside. It is used as medicine in Asia.
Lychee is a great delicacy of Northern Vietnam thanks to its bunches of red-ripened litchis with fine skins, very small seeds, much sweet meat, a purely fragrant taste. Luc Ngan litchi products have been gaining popularity not only across the country but also have been exported to many foreign markets.
7. Mango ( Xoai)
Mango is generally sweet, although its taste and texture are varied widely depending on the variety. The ripe mango is normally eaten in fresh and the unripe which taste is mostly sour is used for cooking as well as making varieties of pickles. In Vietnam, Mango plants are well grown in southern provinces and are divided into several kinds, named locally as Xoai Cat, Xoai Tuong and so on in which the most well known is Hoa Loc mango in the Mekong river delta for its aroma and sweetness.
8. Rambutan (Chom Chom)
Rambutan fruit is full of carbohydrate, protein, fat, phosphorus, iron, calcium and vitamin C. This plant can be also used as a medicinal fruit and have benefits for health such as losing weight, making skin become softer and good for our hair.
9. Mandarin orange ( Quyt)
Mandarin oranges are one of most popular citrus fruits of the orange family.  The has a thin skin that is easy to peel which can be a material of children's snack.
Main production areas of mandarins in Vietnam are: Can Tho, Tien Giang, Vinh Long, Ben Tre, Dong Thap, Tra Vinh, Dong Nai, Hoa Binh, Nghe An and Lang Son. Ly Nhan Mandarin of Vietnam is not only widely sold in the domestic markets of Vietnam but also exported to the world markets.
10. Star apple ( Vu Sua)
Star apple is natived to the West India and has spread to the lowlands of Central America, throughout the tropics like Southeast Asia and including Vietnam.
The star apple tree is a tropical or subtropical species and grow well only in the warmest locations of southern of Vietnam. The most famous Star apples located in Can Tho Province in the Mekong River Delta. In this place, visitors can enjoy themselves the hundreds of star apples suspended from the branches. Star apples in here are famous for the round smooth and equal size fruits. The shape of the star apple matches the name attached to it, as does its juice which is fragrantly sweet and milky white like breast milk. If visitors are unfamiliar to the region, they can be guided by locals  to enjoy the fruit.
Google+