How to make vietnamese fresh spring rolls
Ingredients: 
300g pork belly
200g shrimps
200g rice vermicelli
Lectuce, mint leaves, cilantro, chives, cucumber
Rice paper 15 pcs
Dipping sauce: 1tbsp oil, 1tbsp minced garlic, 5tbsp hoisin sauce, 5tbsp broth, 1tbsp peanut butter, 1tbsp sugar
Fillings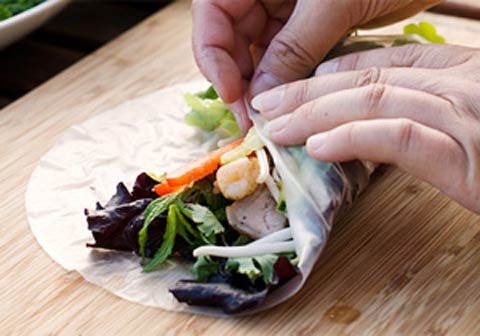 - Boil pork belly with a tsp of salt. When it boils, turn heat to medium low and cook for 25-35 mins depending on how thick the cut of pork is. Keep the broth for later use.
- Soak the meat in cold water to avoid it from blackening.
- Cut pork into thin slices.
- Fry the prawns without any oil on medium heat for 1-2 mins until turn orange. Peel and devein. Slice vertically into 2 halves. Remove the black lines if any.
- Boil rice vermicelli 3 to 5 minutes following package instructions and drain. Wash again with cold water to stop rice vermicelli from cooking further.
- Cut cucumber into long slices, about a finger long.
Assemble: cucumber, rice vermicelli, prawns, pork, veggies, a pan of warm water to soften rice paper.
- Dip rice paper into water evenly, shake gently to get rid of excess water, lay on a flat surface like plate or a cutting board.
- Place vegetables in a row across the center leaving about 2 inches on each side, a handful of vermicelli, 2 pork slices, 2 shrimp halves. Keep orange side of shrimps facing down.
- Roll 1-2 rounds first, fold both sides inward, can also include some chives at the end like they normally do it in VN. And roll the wrapper gently but tightly.
Sauce: Peanut butter, hoisin sauce and garlic.
- In a heated pan, add 1tbsp oil and fry 1 tbsp garlic till golden brown.
- Then add 5 tbsp of hoisin sauce, and 5tbsp of pork broth which was saved from boiling the pork cut earlier. 1 tbsp peanut butter and 1 tbsp of sugar.
- Stir well and Simmer the sauce for 1-2 mins until it is thickened.
- Transfer to condiment bowls and top up with minced fresh chili and crushed peanuts.
If you are going on a picnic, you can wrap the vietnamese fresh spring rolls in plastic wrap so that the rice paper won't dry out or stick to each other. Have fun on trying this !
Google+